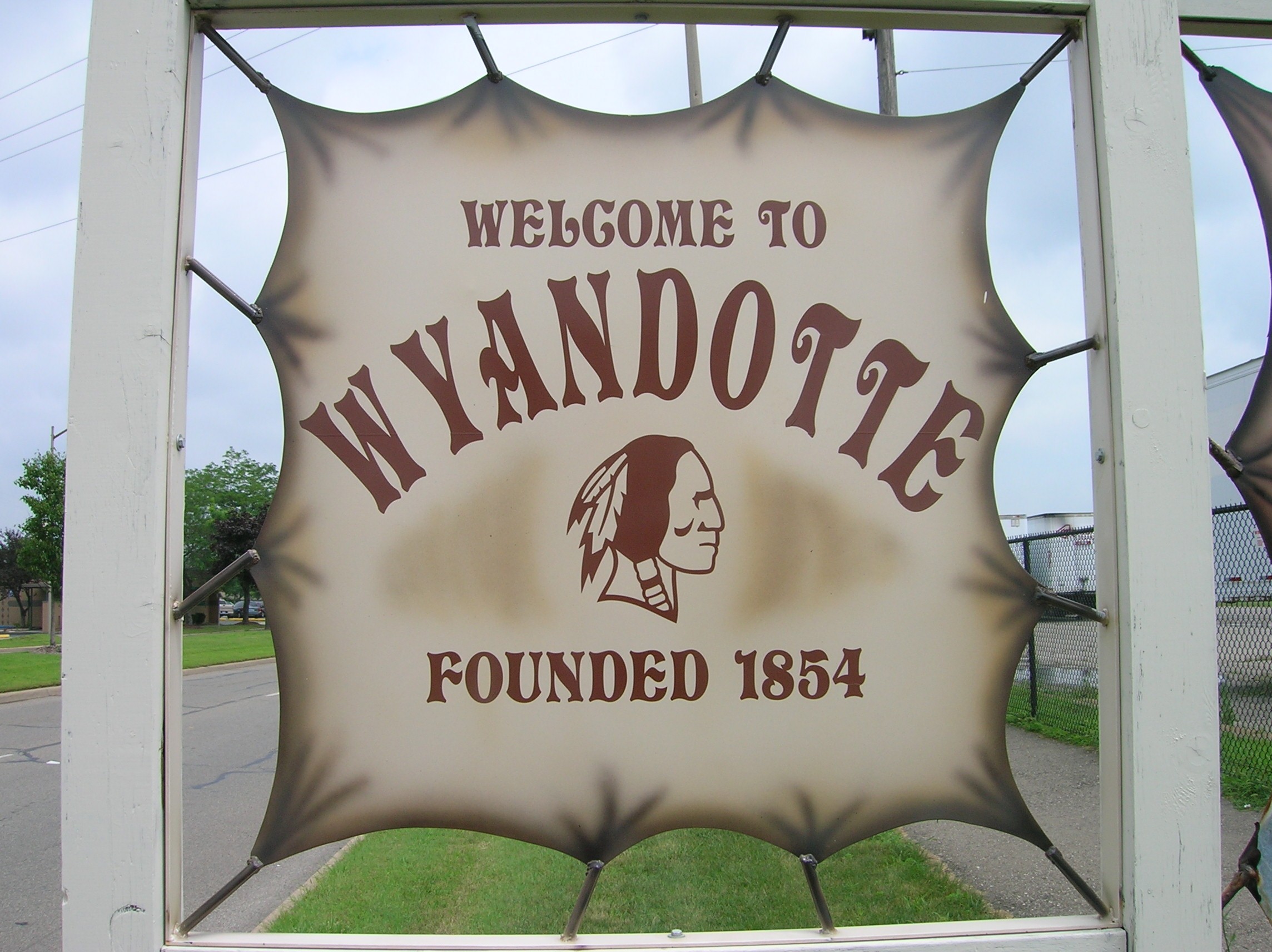 Wyandotte Michigan is one of several relatively small cities residing approximately 20 minutes south of Detroit. Together these cities designate an area known as downriver, in that they all are located "down the river" from Detroit. Many downriver communities share similar statistical information with Wyandotte:
| | |
| --- | --- |
| | 5.54 square miles |
| | Population around 28,000 |
| | Close proximity to Detroit (of particular importance in the early 20th Century) |
| | City was established out of industrial need |
| | Environment conducive to the needs of work and family life |
Wyandotte's early years were much like those of Allen Park, Lincoln Park, Southgate, Melvindale and the other nearly 20 cities in the surrounding area in that they served a distinct purpose to fund and enrich family life. By the mid 1900s when a shift in industrial life took a turn for the worse and many companies moved or went out of business, the entire downriver area suffered.

Today, many downriver cities show evidence of "what once was." The vibrant life, funding, and community spirit that once kept these cities thriving is non-existent. But this brings us to the major point of separation between Wyandotte and its neighboring cities. Today Wyandotte is viewed as the "star" of the downriver area. It has reinvented itself into a gleaming city where people desire to live. But how did it do it? Before we get to the answer of Wyandotte's present and future state, we must first consider and appreciate its past.
FIRST INHABITANTS



Totem Pole dedication

In the early 1700s, a remnant tribe of Wyandot (Huron) Indians fled Canada, fearing for their lives because of the ferocious wars waged by the Iroquois against them and other tribes. They migrated to Michigan and eventually found a high bank on the Detroit River that was free of the marshes along the rest of the shoreline. Here the refugees had a good source of drinking water, food, and fertile soil which they tilled. In 1732, they established a village roughly bordered by Oak Street, Biddle Avenue, and Eureka Road, which they named "Maquaqua". But by 1789 their peaceful and fruitful use of the land began to be taken away by a series of treaties with the United States—ending with the 1818 treaty granting them land on the Huron River, which ultimately forced them to the Flat Rock area.
After the 1818 treaty, Major John Biddle purchased 2,200 acres from the federal government on which he established a farm and built a mansion. Currently, the Wyandotte Museum located at 2610 Biddle Avenue stands on almost the same spot as the original estate, and the remaining (the mansion was subject to a fire) Biddle residence is located at 2116 Biddle. Major Biddle's estate was named "The Wyandotte" in honor of its former residents.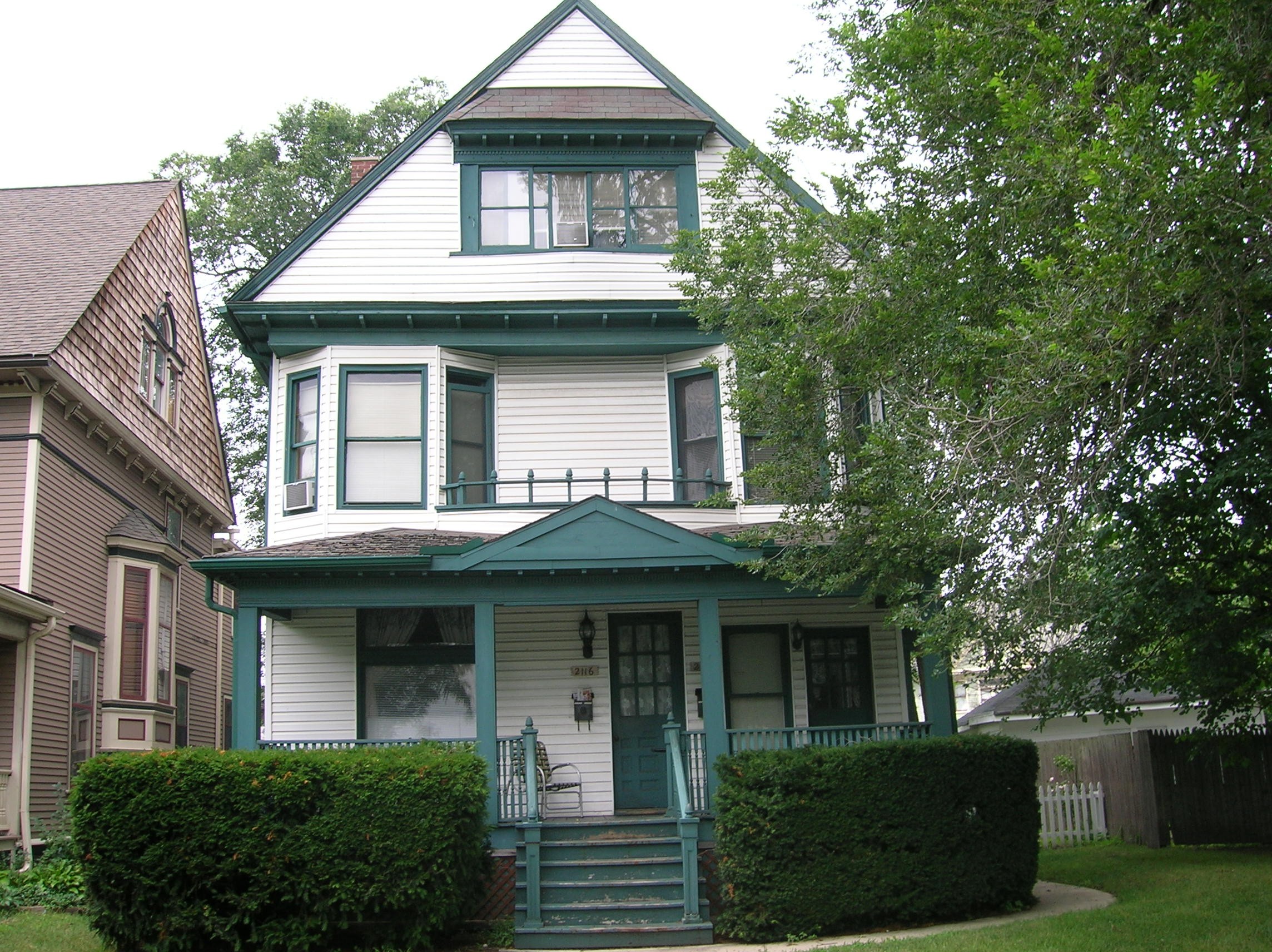 2116 Biddle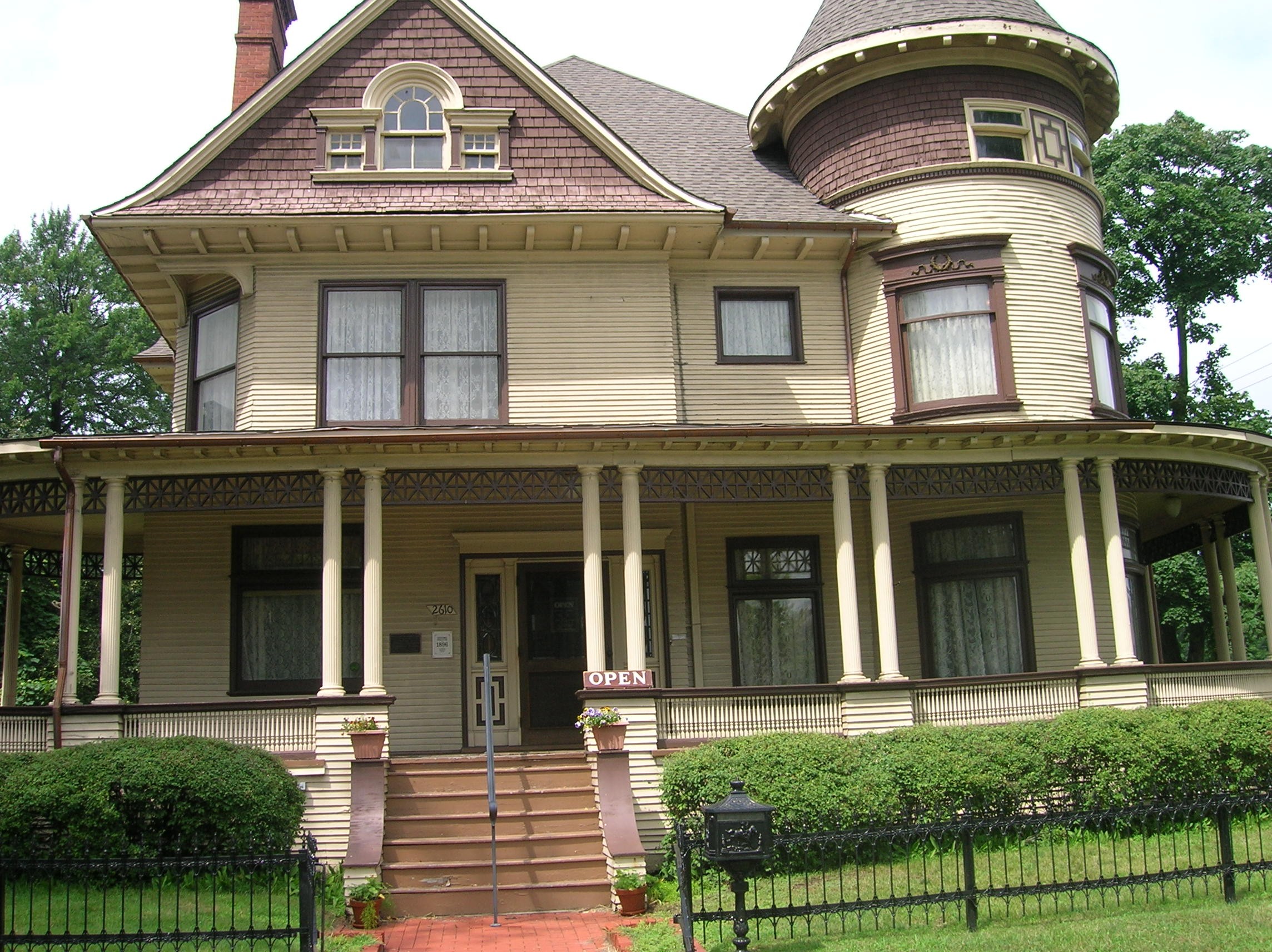 Wyandotte Museum
EARLY INDUSTRIAL CONTRIBUTIONS
Wyandotte's phenomenal growth was due to the large number of jobs available in its industrial plants. The earliest was the Eureka Iron Company, organized in 1858 by a syndicate of business friends and other investors. Their purchase of the Biddle estate provided them with two miles of riverfront, where they could both receive the ore being shipped from the Marquette area, and ship their product. There were also plenty of trees for making charcoal, which produced smokeless fire. In 1864, Wyandotte saw the first commercial manufacture of Bessemer steel in the United States. The plant closed in 1892 after the iron market fell and the local forests were used up.
Around the same time, a large salt bed was discovered under Wyandotte. Salt was important to the making of soda ash, locally called "sody" ash, necessary for Captain J. B. (John Battice) Ford's manufacture of plate glass. The Michigan Alkali was established to make soda ash along with many other chemicals in the 1890s. Michigan Alkali was Wyandotte's largest employer and the world's largest producer of dry ice. Michigan Alkali dominated Wyandotte's shoreline northward from Ford Road and southward in approximately the area covered by Wyandotte's golf course. In the 1940s Michigan Alkali's name was changed to Wyandotte Chemicals Company, and today it is known as BASF.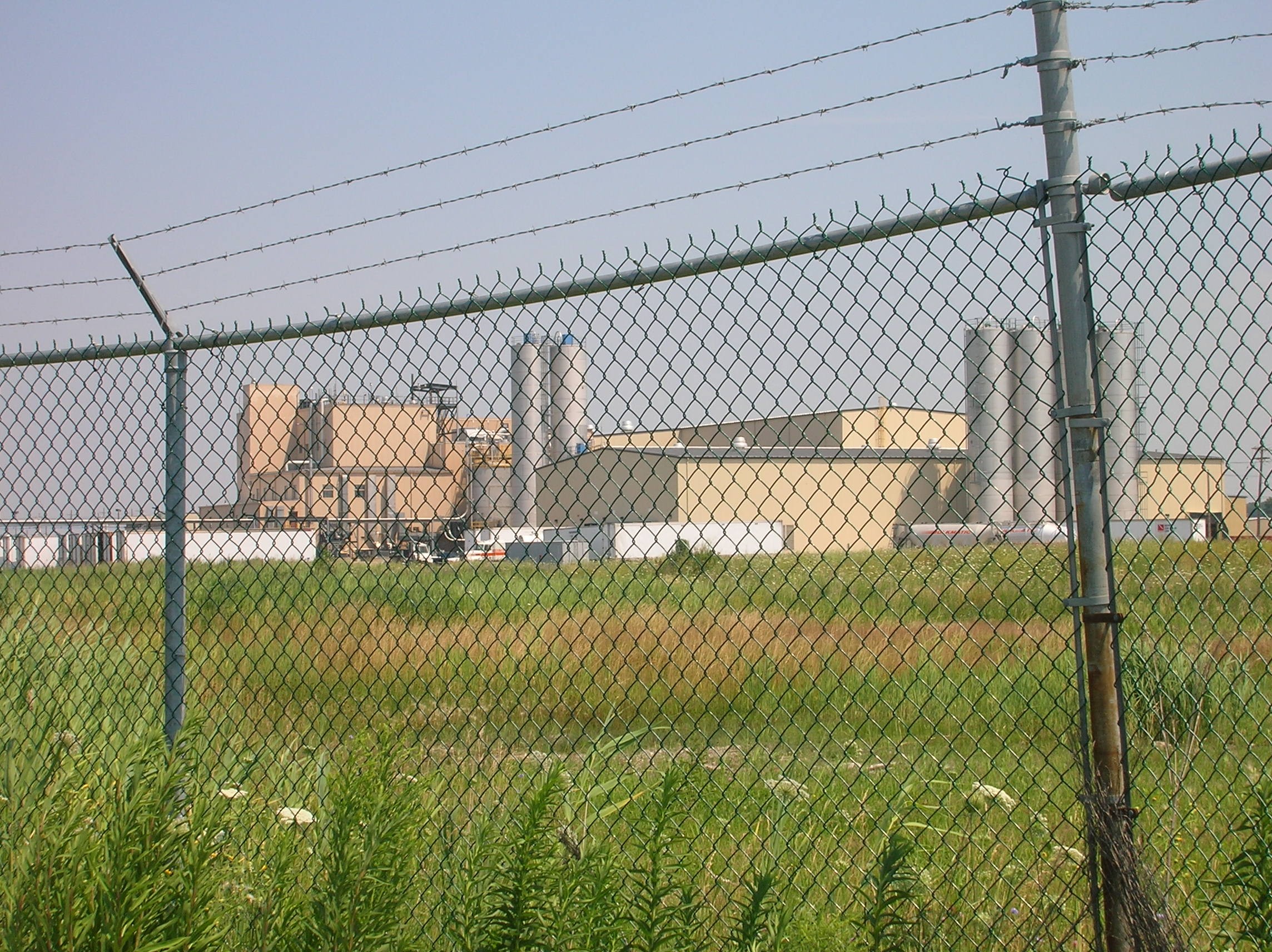 BASF

Golf Course
Other early industries were the American Shipbuilding Company (1871-1920), the E. H. Doyle Hoop & Stave Works in 1889 (who provided the city's first electric power), the McCord Corporation, the Beals & Selkirk Trunk Company, and The Pennsylvania Salt Manufacturing Company.
EARLY IMMIGRANT SETTLERS
Many of the immigrants who came to Wyandotte to work were of Irish, German, and Polish decent. Due to this diversity, sub-communities were formed as well as churches to express their faith. In 1857 the Irish immigrants had formed St. Charles church (Today known as St. Patrick).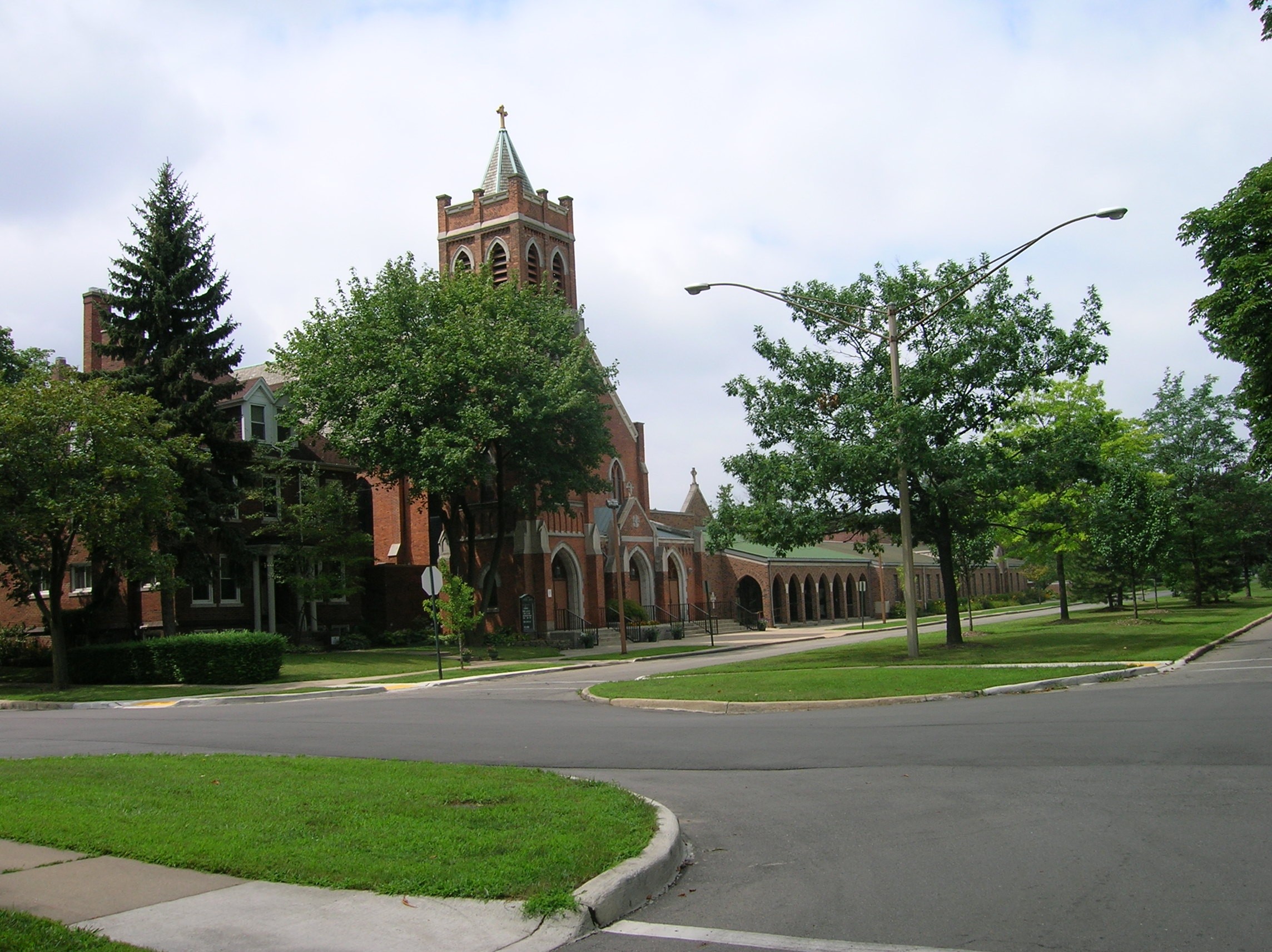 St. Patrick's Church
As with the Irish, Wyandotte's German Lutherans were determined to establish a church, desiring worship in their native tongue. Trinity Lutheran was formally organized in 1861.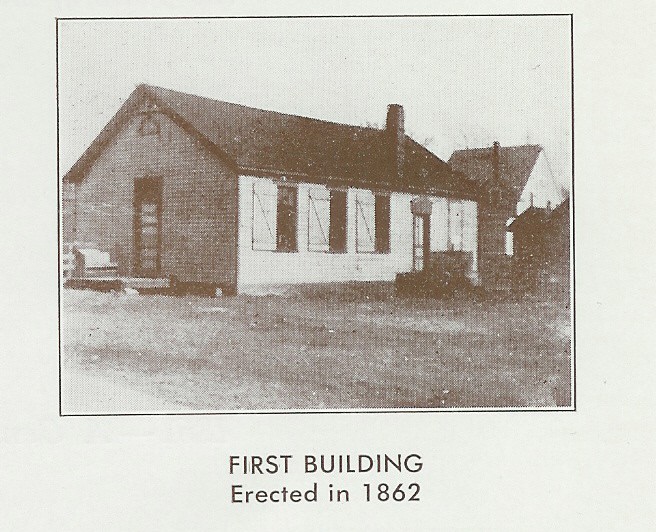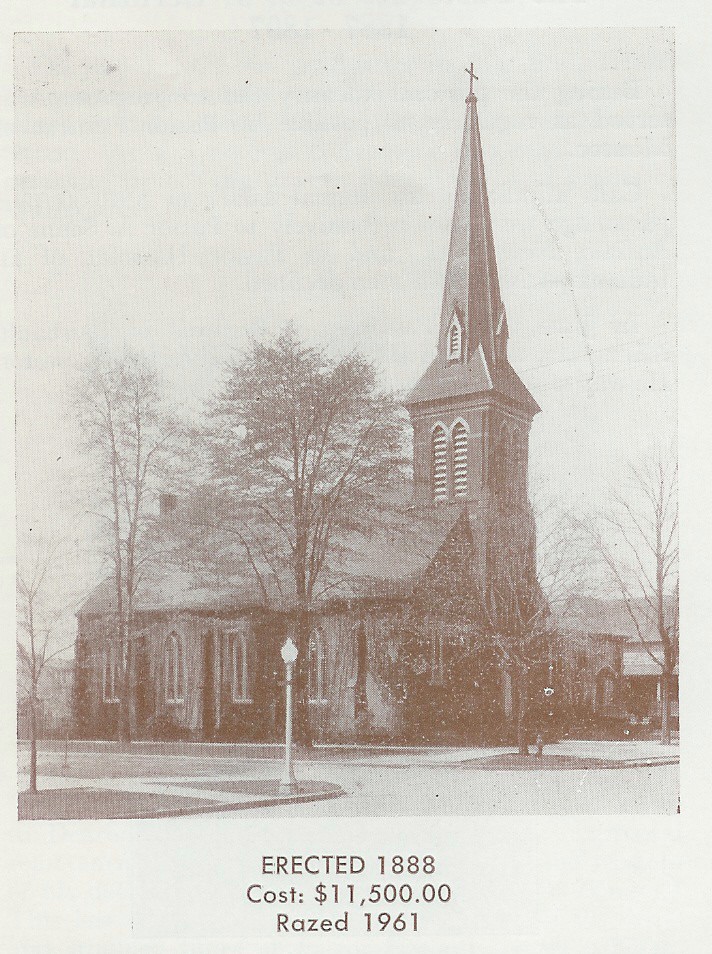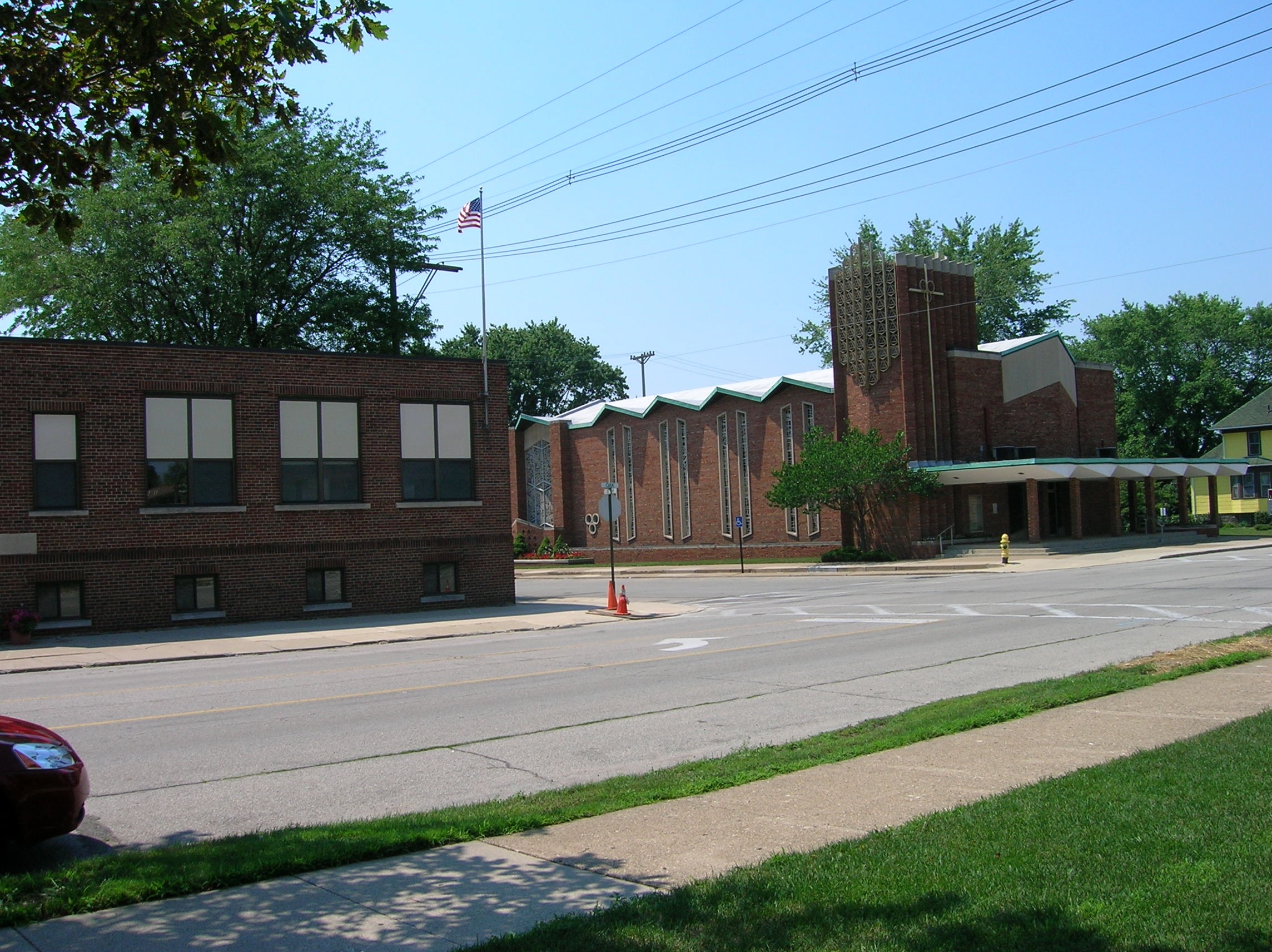 Current Church-School
The Polish founded Our Lady of Mount Carmel in 1899, and in 1915 the new (and current) Mount Carmel church with matching bell towers was built—making it the most impressive structure in Wyandotte.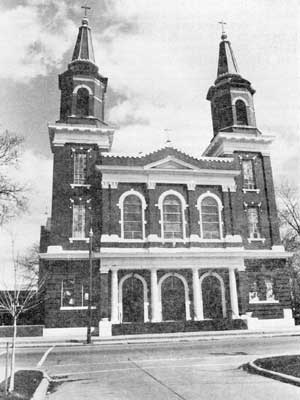 Our Lady of Mt. Carmel Church

The great number of hard-working, church-going, and education-minded Irish, German and Polish immigrants had a great impact on Wyandotte's future development. They founded various civic and fraternal organizations, thus promoting social life in the city. A group known as The German Arbeiter (Worker) Society extended membership to all. For many years the Arbeiter Hall (built 1891) served as Wyandotte's civic center for club meetings, weddings, dances, and athletic events. The Society brought world-famous lecturers, theater productions, concert artists, musical groups, and sporting contests into the city. They also hosted colorful parades which would include some 500 horseback farmers, bands, and decorated wagons featuring the wares of local merchants.
EDUCATION
Education was important to Wyandotte's citizenry as evident with a public school system dating back to 1855. By 1923, a complete K-12 education was available to all with vocational training to college preparatory courses. The new Theodore Roosevelt High School was one of the most impressive in Michigan. It was built to accommodate 1,400 students (even though there were only about 500 high school students in the city).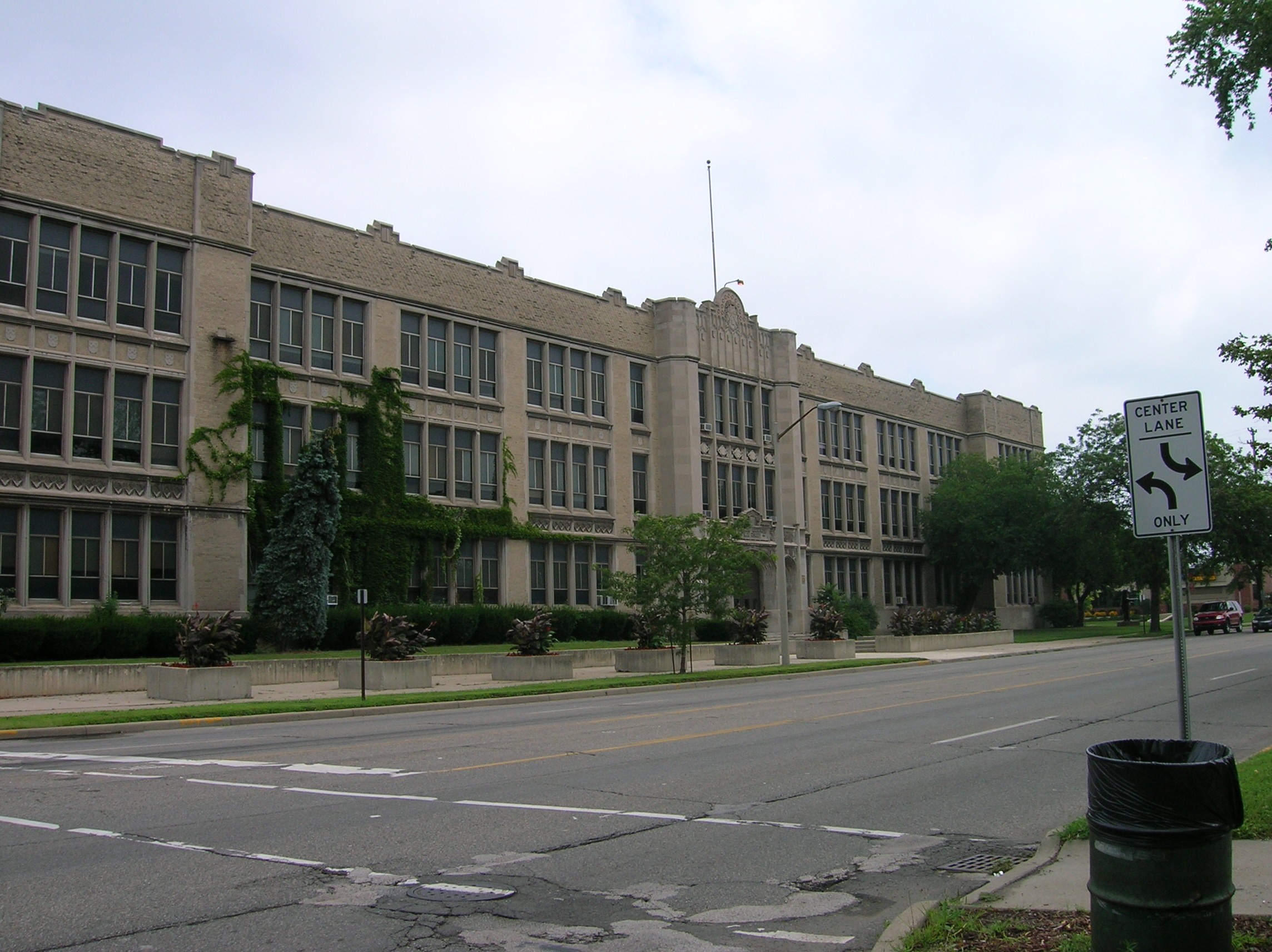 Roosevelt High School
DOWNTOWN: ITS PAST SOCIAL SCENE
In the early 1900s Wyandotte (not unlike many other downriver areas) offered a variety of things to do. Forms of entertainment included three theaters, a collection of department stores, men's and women's clothing stores, shoe stores, "dime stores," jewelry stores, photographic studios, restaurants, and a bowling alley—all on or just off Biddle Avenue.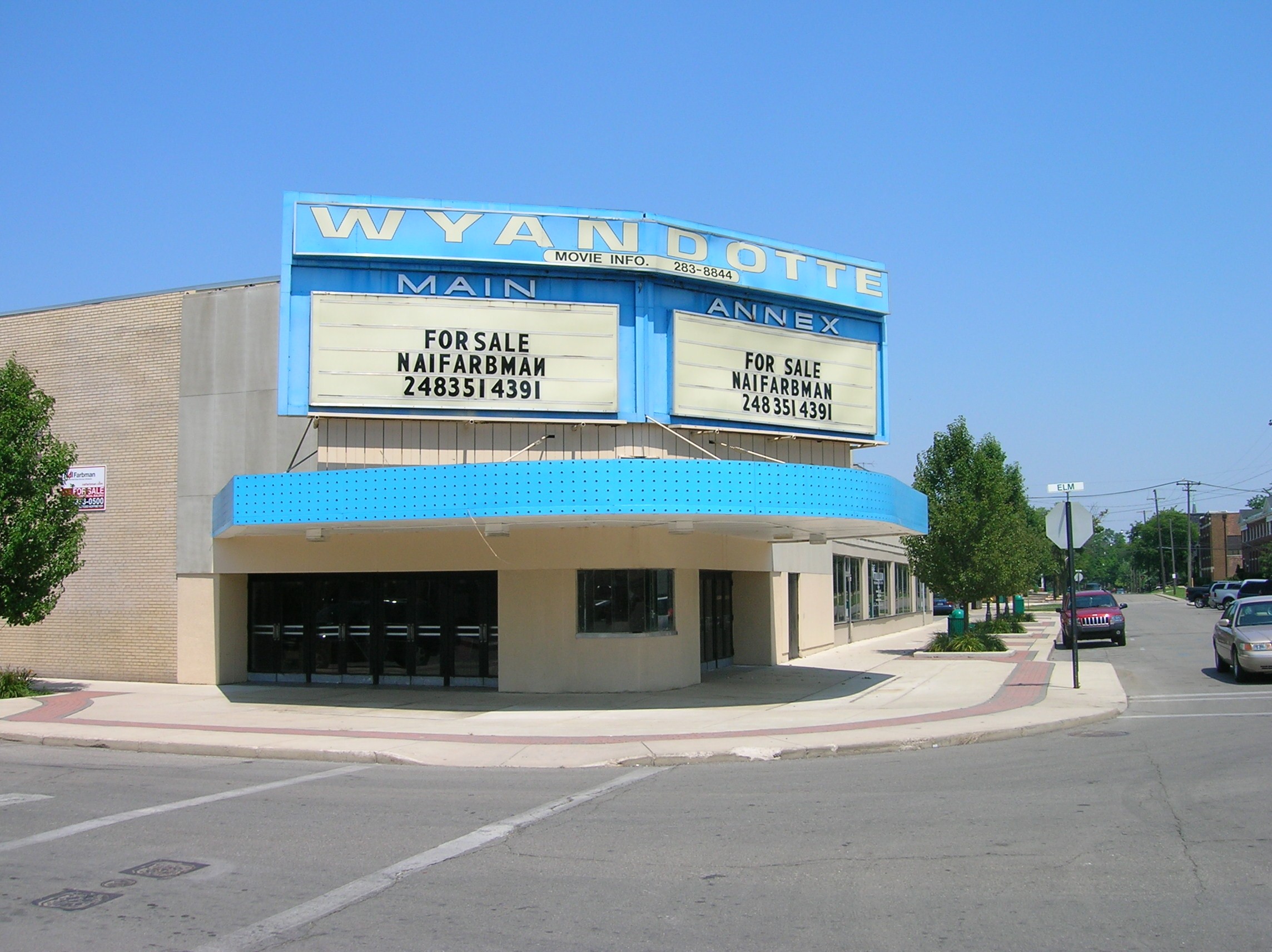 Wyandotte Theatre (present day)
Not all things were centered downtown though. Oak Street as far as 14th and
10th Street north of Oak were a sort of "mini-downtown." There were three dry-goods stores, a hardware store, several retail and repair shoe stores, a dry cleaner, a bakery, food and meat markets, sweet shops, a gas station, and a bowling alley. There was a sprinkling of neighborhood bars along or right off Oak Street. In fact, food-and-meat markets and neighborhood bars were scattered throughout residential areas in Wyandotte's eastern half.
There were several "creameries," or dairy outlets in Wyandotte. In fact, the Mehlhose building is still standing on Fourth Street between Oak and Elm.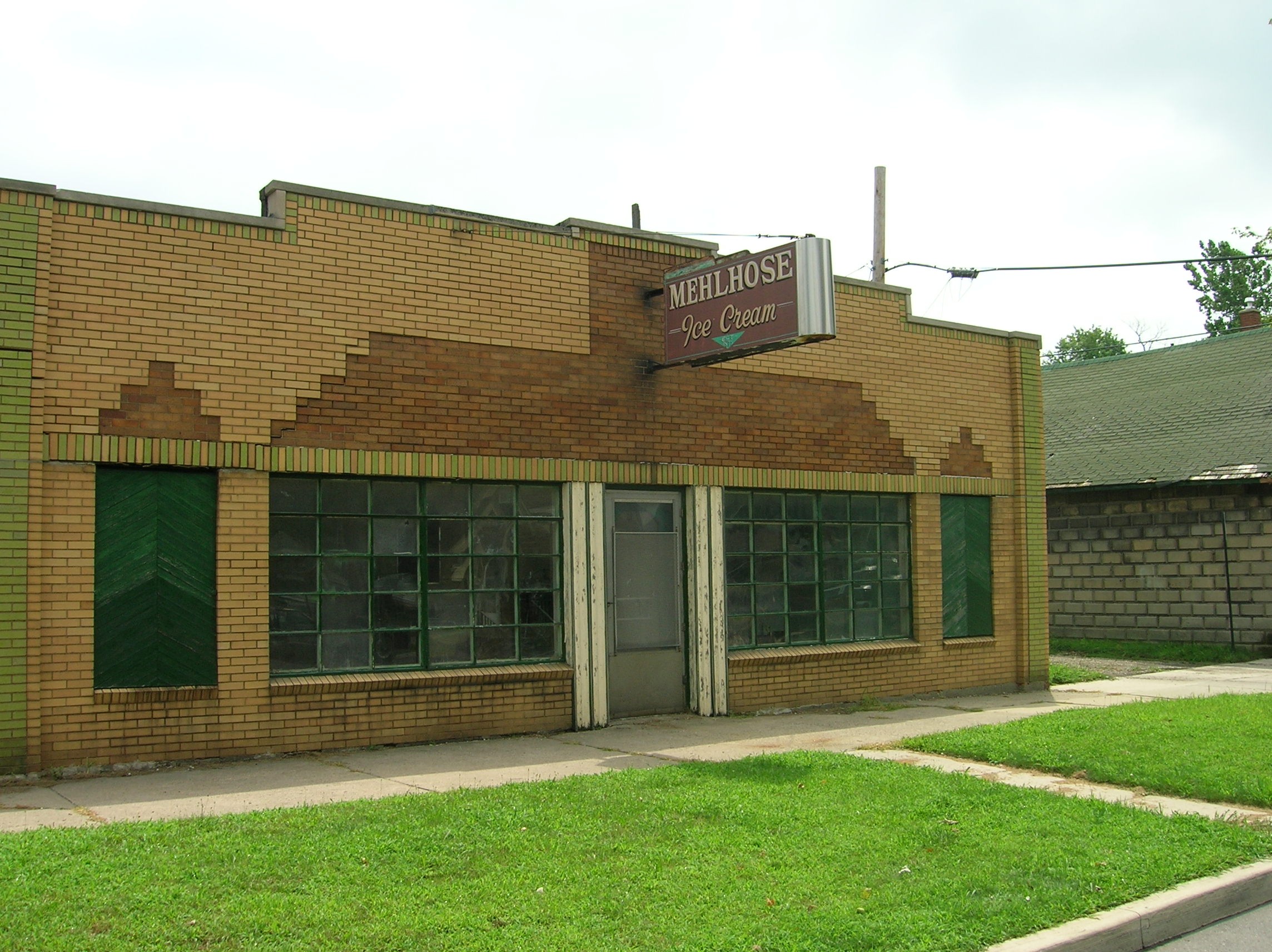 Mehlhouse Ice Cream store
DOWNTOWN: THE PAST LEADING TO THE PRESENT AND FUTURE
Sometime after 1950, most of the heavy industries closed or downsized, and Wyandotte, along with many downriver cities became a ghost of their former selves, due to a dwindling merchant and residential population.
Following this decline, several downriver cities tried to develop and implement plans for revitalization—and for Wyandotte the efforts proved uniquely successful as the city began a slow and determined resurgence. Most of the old industrial chemical plant buildings were torn down and the downtown area was revitalized following a step-by-step plan. The city began buying up old decrepit homes and razing them. 30-foot and other small-sized lots were combined into single, larger ones. Builders were encouraged to erect large expensive homes in former blighted areas tempted with a very attractive purchase price.
So the question posed again: "How did it do it?" and "why did a plan for Wyandotte revitalization prove successful where other downriver communities have failed?" The answer is quite simple...The River.

The placement of Wyandotte along the Detroit river gave it an edge that no other city downriver could benefit from. As society desires changed and an emphasis was placed on leisure, the city of Wyandotte was able to market the river as a focal point from which to draw people in...and this alone, at least from the perspective of this researcher, is why the revitalization of Wyandotte was and is possible.

One example are the relatively recent condominium developments. Wyandotte developers built condos overlooking the Detroit river (as seen below) and they sold at a very successful rate. The same attempt in Lincoln Park left the developer with a largely unsold property. Why would this be? Well, the answer is obvious....ask yourself: "Would I like a condo overlooking the Detroit river, or one overlooking Southfield road?"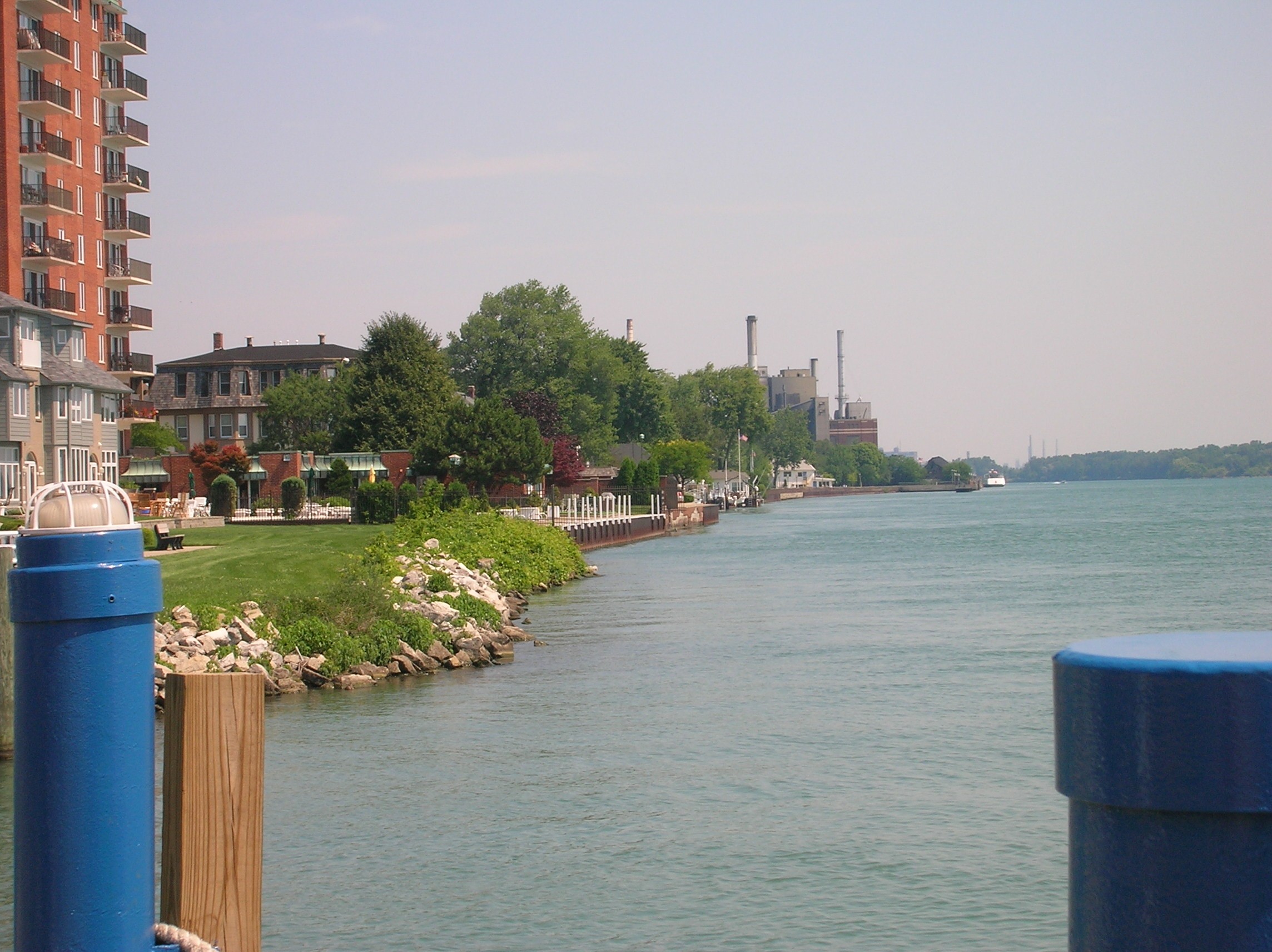 View of Condominiums overlooking the Detroit river
Another example are the restaurant businesses—several of which are conveniently located at the waters edge (including Portofino restaurant; the patio of which was the location the photo above was taken from). Restaurants along the water are able to utilized the view, thereby enhancing the ambiance. Not to mention the convenient location for residents of the ever-growing condominiums and housing developments—a cyclical and mutually beneficial trend.
Early in this work you read the shared statistics of Wyandotte and its neighboring communities. Now let's consider its unique stats:
| | |
| --- | --- |
| | Henry Ford Wyandotte 344 bed teaching hospital |
| | 28 churches serving 11 denominations |
| | 4 banks and credit unions with resources over $300.00 billion |
| | 4 railroads |
| | Public docking facilities |
| | 67 manufacturing facilities |
| | Community owned/run electrical, water, cable, high-speed internet, and high temperature hot water |
| | Electrical plant produces 65,500 kilowatts per day |
| | Largest municipally owned cable T.V. in Michigan with 10,000 subscribers |
| | Water works at 16 million gallons per day |
| | 2 public communication towers |
Today's Wyandotte boasts wonderful restaurants, coffee houses, art galleries and a park—all within walking distance. A city once heralded for its industrial contributions a relatively short time ago is now acclaimed for its entertainment, recreation, and relaxation. Interestingly, the one force not only binding but also serving as a foundation for these parallel opposing city agenda success stories is the constant, unchanging nature that is the Detroit river.